Now that you have your log cabin set up, it's time to think about the different parts of your log cabin home. Log cabin kitchens are often the most thought about because who doesn't want a good kitchen? Whether you will use the log cabin as a vacation home or your permanent home with your family, it is very important that you have a nice kitchen to prepare meals and to store food.
Decorating log cabin kitchens is very exciting and interesting. You won't definitely have a dull moment! Here are some tips that can help you start your log cabin kitchen project:
Before you buy any materials, there are some details that you have to sort out first. Stick with a theme, this will make it easier for you to design and decorate your kitchen. Log cabin interiors must always be taken into consideration.
If you don't have a wide kitchen space, try maximizing it by being more practical. Put cabinets that have multiple storage areas and counters. Don't put pot racks and other low ceiling decorations. They can make the space look even more cramped.
Keep everything simple. Don't buy big furniture, go for smaller and thinner ones.
When it comes to log cabin furniture, don't overdo the decorations.
Make sure that the counters are clear, no decorations or anything.
The cabinets must be a little below the ceiling. This way, those things that you wish to put on the counter can be placed above your cabinets. This will also create the feeling that ceilings are tall.
It will also be a good idea to use glass on some of your kitchen cabinets just to show your dining articles.
Purchase a unique sink.
If your kitchen has a window/s, choose a valance made of light material.
A small plant inside your kitchen will help as well.
Those are easy tips to follow when it comes to decorating log cabin kitchens. However, you must also consider the needs of your family when it comes to cooking. Make sure that everything will be convenient and comfortable for you and for them as well.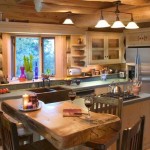 When it comes to buying appliances for log cabin kitchens, buy something that will match your family's eating habits. It is normal to feel overwhelmed when it comes to decorating your kitchen because you have a lot of things you want to buy, however, you must stick first to the your needs before the wants and have your log house cabin plans ready!