A lot of us are wondering about the typical home inspector salary. To those who plan on pursuing this career or are simply curious about it, typical home inspector salaries actually vary, depending on the type of work, experience level, and location. Those looking for a job that involves construction, electrical, plumbing, and other related functions have a shot at becoming a home inspector.
What does a home inspector do? A home inspector is one who's responsible for examining new and existing structures (usually single family homes) as well as detecting building code violations and structural defects or weaknesses. These include plumbing, electrical, and other components of the house. Most of the time, the inspection is done on behalf of a home buyer or the seller. Many home inspectors are self-employed contractors, offering their services at varying rates and degrees. A home inspector is considered as a part of the building and construction industry.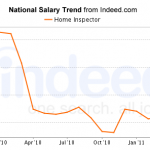 Some Facts on Home Inspector Salary
In May 2008, the U.S Bureau of Labor Statistics (BLS) reported that construction and building inspectors have a median annual wage of $50,180. According to the report, the lowest ten percent of salaries were under $31,270 while the highest ten percent is $78,070 or more each year.
The employers and the type of work have a bearing on the salary of construction and building inspectors. It was noted by the BLS that individuals who worked for the federal government had the highest median income at $62,120 while individuals who worked for state governments had the lowest at $45,700. In the meantime, architectural and engineering firms pay inspectors a median salary of $49,320.
Those who want a higher home inspector salary can pursue certification, membership, and education in renowned home inspection associations such as the American Society of Home Inspectors (ASHI) and the National Association of Home Inspectors (NAHI).
There are some schools that offer certification programs and will prepare you for a home inspection license examination. These programs will help you learn about the principles of inspection and how they are applied to major building systems like heating, air conditioning, plumbing, insulation, and many more. You will also learn how to write accurate reports and be introduced to appropriate work ethics.
Having a Certified Real Inspector (CRI) license through NAHI is not really needed in a home inspection profession, but it can certainly help you acquire a higher home inspector salary. To qualify, you must complete 250 paid inspections and pass a certification exam.
Being a home inspector may be one of the best jobs in the world. It has also been observed that there is a growing number of people who are pursuing this career. Keep in mind that in order for you to achieve a high home inspector salary, you should enroll in some programs and eventually get certified. Getting certified will definitely lead to more clients.