Today, more couples are aiming for a beach wedding. Its beautiful view and the feel of sand on your toes are just enough to make everything perfect. Of course, the sound of the waves crashing and the sun under you, blessing your wedding and promises a great day. To be able to capture these beautiful sights and all your wedding memories, you must have a good photographer that can take great beach wedding pictures.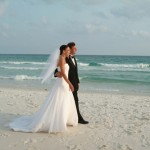 If you're a photographer and you are hire to cover a beach wedding, you must be famialiar with outdoor shootings, especially sunny venues. The entire lighting aspect needs to be manipulated as required by you. If you are still learning some techniques, you should remember to set up your camera way ahead of time and practice a few shots that would help you capture some truly treasured moments that will make your clients happy.
Here are some beach wedding pictures tips:
There are shots where the sun should be behind you and there is some where in needs to be off at an angle.
Get truly romantic photos like the bride and the groom walking off to the sunset. The romantic silhoutte shots can be taken in perfection in these lighting conditions.
Cary the photos of the basis of changing positions of the sun and also, make sure that you plan out all these in advance.
You might encouted inconsequential pictures but you will find some of them will look amazing in tandem with other photos.
Keep in mind that you should try and you need to capture both exquisiteness of the wedding along with surf and sand.
Capture moments like the sun over the water, keep the shadows of their faces of the bride and the groom while other images are shadowed and get a cute picture of the bride and groom inside a sand heart.
Those are some of the tips that you can do to take really great beach wedding pictures. It will be better if you test taking pictures at the beach before the actual wedding day. This way, you will be able to practice which will lead to lesser mistakes or even zero mistakes on your wedding day.