A good mattress can give a person the support that he or she needs. This means that the mattress must have the right firmness. It also means that the mattress should not be too hard or too soft. A mattress that is too hard can't conform to the contours of the body while something that is too soft will give the feeling of being swallowed, thus constricting movement. How do you find the best mattress topper?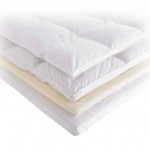 Here are some tips to find the best mattress topper:
Familiarize yourself with the many modern types of mattress toppers and mattress pads available in the market today. It will help you choose the sleep surface that will suit you best. Latex toppers, memory foam toppers, down mattress toppers, wool toppers and cotton toppers are the most popular types.
Determine the size of the topper to ensure the proper fit on your bed. Keep in mind that there are actually mattress pads that don't follow the standard mattress sizes. It is advisable that you measure the dimensions of the bed instead of assuming its real size.
Look for a pad that is thick enough to provide more comfort to you. It should be thick enough to prevent the bed from further deterioration.
Shop around for recommended and household brands.
Read reviews about the different brands and types.
The best mattress topper isn't too hard to find as long as you keep these 5 simple tips in mind. Yes, it can be overwhelming when it comes to choosing the best one because there are a lot of mattress toppers out there that are being offered by different manufacturers.
You deserve to have a good night's sleep, and you can do this by having the best mattress topper. Now you will be able to relax after a long and exhausting day at the office. These mattress toppers can be a bit above your budget, but it is also possible that you find something within your budget. If you wish to go for a brand that is reputable and will provide you with a lot of features, you will need to shell out a few more.