Cereal is a quick and easy breakfast but if you are trying to lose weight, you might want to stick to a low carb cereal. You might be wondering what cereal brands you have to go for since there are plenty of these in the market today. To help you, here are some of the low carb cereals available today: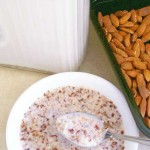 HI-LO
Manufactured by Nutritious Living
It comes in four varities: Original, with strawberries, vanilla-almond and maple-pecan
Half a cup of this low carb cereal with strawberries only has 14g carbohydrates, While the other three varieties of HI-LO contains 13 g carbohydrates per ½ cup serving. This particular cereal is high in fiber, with the original and strawberries varieties containing 6g fiber and the vanilla-almond and maple-pecan containing 7g fiber.
Special K Protein Plus
Manufactured by Kellogg's
Contains 10 g protein, 5 g fiber, and only 14 g carbohydrates per ¾ cup serving.
One of the best low carb cereal to start your morning. You can add some extra flavor by putting on some berries like blueberries or strawberries which are both low in carbohydrates. Aside from this, to make it even more delicioys, you can drizzle some carbohydrate-free blueberry or strawberry syrup.
SMAPS
Manufactured by Dixie Diner's Club
Low-carbohydrate
gluten-free
Vegan cereal
Each half cup serving of Smaps contains 15 g protein, 6 g fiber and only 8 g carbohydrates. In fact, this makes it that lowest carbohydrate breakfast cereal available today. Although it's a cold cereal, its crunchy nuggets lend themselves well to be enjoyed as a hot cereal.
These are some of the best low carb cereals available today. So, if you are looking for something to add to your ketogenic diet menu, then this low carb cereal will be perfect for you. It's time to live healthy and lose the unnecessary pounds you have. You will surely love the results.
The best thing about each of the low carb cereal listed above is that each of them is very delicious. You won't even notice that you're eating a low carb food. A lot of people mistake low carb foods to be tasteless but they are very wrong, just a taste of any of these cereals will prove them wrong! They might even eat this the whole day!