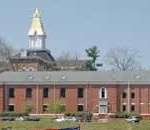 Do you want to be a physical therapist and you currently reside in Georgia? No worries! There are physical therapy schools in Georgia that can give you the highest quality of education you need to excel in your chosen career path. The long list of schools might overwhelm you but there is a list below to help you filter your search and make things much easier for you.
Accredited physical therapy schools in Georgia:
Armstrong Atlantic State University
Emory University
Georgia State University
Medical College of Georgia
North Georgia College and State University
These are some of the best and accredited physical therapy schools in Georgia. Georgia, the Empire State of the South has the best physical therapy schools. Two of the largest schools in this South Eastern State that offer physical therapy programs are the Georgia State University and Armstrong Atlantic State University.
The state of Gerogia is considered to be one of the fastest growing states in the US. Experts have predicted that the computer and healthcare sector will be the most high-paying in the future. People holding degrees in physical therapy are expected to benefit the most. This has become an inspiration to a lot of students in Georgia and this change has urged more and more students to aspire to become a physical therapist in their state. This gives them the security and guarantee that they will be able to get a nice job that has a high-paying salary in the near future.