A teepee is well known as being a movable home. It is very spacious and can't be easily blown away by strong winds. You can also burn a fire inside because it is self-ventilating. It's perfect for cold weather, and you can still be comfortable inside.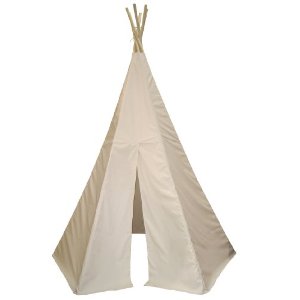 Here are some simple steps on how to make a teepee (10-feet).
In the shape of a half circle and twice as long as its width, trim the canvas of the teepee. 15 x 30 feet is the recommended size. Cut 2 smoke flaps right in the center of the canvas.
To make a circular door opening, cut a half circle door opening onto each end of the canvas. A circular door opening is made because each end of the canvas will be brought together. Hem a pocket into it and insert a heavy stick which will hold the door closed and hem it to the canvas of the teepee.
Three cornered pieces of canvas must be constructed. Sew them to the tip of the smoke flaps that you have created. An extra canvas must be used to reinforce areas of the smoke flaps, where there will usually be larger amounts of strain.
By this time, a rope should be hemmed around the circular base found at the bottom of the canvas. The space rope loops must be equal. Have it pegged down to the teepee. The rope must now be attached at the top to lash the cover to the poles when the teepee is standing.
At least 12 poles that are 3 feet longer than the teepee cover should be in place as well. The teepee cover must be wide. This needs to be straight and smooth.
In a tripod, make 3 of the strongest poles. Tie them together a little higher. Rest the remainder of the poles against the tripod to form a cone shape.
The cover is now to be pulled around the frame and have it fastened at the top with wooden pegs. Peg the bottom of the cover to the ground and spread the poles to stretch the cover. 2 light poles must be inserted into the pockets of the smoke flaps as this will act as a chimney which will create draught.
It's pretty simple as long as you have the right tools and this article for reference. It will also save you more money instead of buying one. If you can do it, why not?
Check out the best Teepees on Amazon here.