A house inspection checklist will allow you to do the home inspection yourself or be more guided especially if you plan to hire a home inspector. If you are buying a home, it is always important that you have a home inspection checklist with you. Such checklist will help you make a thorough inspection and a good list will have a hundred items in it. This way, you will be able to keep up with the home inspector.
The start of your house inspection checklist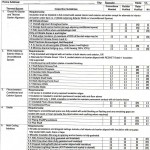 A good house inspection checklist is organized by areas of the house. The beginning of the inspection is outside the house. In fact, you can do this on your own, just walk around the house and look for signs of cracked exterior walls, leaning chimney, damaged roof, unsafe railings, etc. Always take notes. If you happen to encounter a loose gutter on the side of the house, take note of that.
The next part on your house inspection checklist is the interior of the house. This includes the plumbing, electrical, heating, basement, finishes, etc. Inspecting these things will definitely require a home inspector as a home inspector has experience on inspecting such things and has an educational background.
What can a house inspection checklist do?
A house inspection checklist will help you be aware of the items being inspected. At the same time, you will be able to feel that you're part of the whole inspection process. That is why it is highly recommended that potential home buyers or home owners to be present when the house is being inspected. This checklist can be requested from your home inspector while other home inspectors give them directly to you once you hired them.
On your house inspection list, you will see all the items that will be checked and beside it, you will see that there's a space left for notes and grades from good to poor. This checklist is where the house inspection report is based.  Having this checklist will ensure you that you will make the most out of the home inspection cost that you will pay to the home inspector.