If you are having a home inspected, whether you're buying it or you're the one selling it, it is very important that you also have a home inspection checklist. Obviously, you will need to hire a home inspector to do the inspection but at the same time, you must be aware of what are the items that must be checked and this will also ensure you that you are making the most out of your money.
The home inspection cost can be a bit pricey, so having your own home inspection checklist that you can request from your home inspector would help a lot. It would also be helpful if you are present during the whole inspection process so you can answer the questions of the home inspector and vice versa.
Things to remember: home inspection checklist
You have to keep in mind that the focus of a home inspection is on the structural, mechanical, electrical and the overall condition of the property. However, keep in mind that the standard practice of home inspectors don't include the inspection of asbestos, radon gas, lead paint, toxic mold and pest control. Inspection of those things will require a specific license. So, if you want to have those checked, you must hire a certified and licensed home inspector but this will cost you more.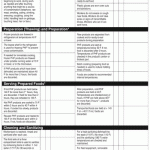 In order to fully understand a home inspection checklist, you must know the process. Remember that the first step in inspecting a home is that the home inspector examine the big picture of the home. The inspector will notice the are the home is located in, other homes of similar age and construction details that are relative to the home they are inspecting, checking for significant modifications to the exterior of the building and examining the workmanship.
Once the home inspector is done with visualizing the big picture, you will see on your home inspection checklist that the first items are located outside the home. The beginning of the inspection starts at the exterior front of the house and the inspector will work his way around the house at a distance which will allow home to view a complete face comfortable. The next items on your home inspection checklist is the interior that starts at the basement and the inspector will work his way up from there.
Here's a detailed home inspection checklist to help you:
Roof
Chimney
Soffit/Fascia
Gutters
Cladding
Windows
Doors
Decks
Porches
Lot Area
Heating
AC/heat pump
Plumbing
Electrical
Floors
Walls
Ceilings
Bathrooms
Kitchen
Fireplaces
Skylights
Foundations
Basement
Attic
Others
In that home inspection checklist, expect your home inspector to add some notes and there will be grades beside the notes from good to poor.