An outdoor storage is needed by a lot of people. It is very practical and convenient. Today, there are plenty of options that's both functional and affordable. Since there are a lot of options, you must also know the different types.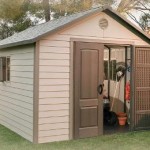 Resin Storage
This particular type of outdoor storage ranges in size from 6×8 to 10×12. Resin storage buildings are purchased as a kit that the customer assembles and can put on a properly prepared dirt foundation. When assembled properly, the structure will be leak-proof and secure. There are a lot of storage buildings that are designed with reinforced floors to allow you to park your tractor inside. The buildings have windows and the doors are lockable. You can choose from a number of neutral colors and styles. Hybrid sheds are made with a combination of natural woods and resin.
Resin is well-suited for most storage units and they can easily adapt to make a variety of storage buildings in kit form that can be assembled wherever they are needed. Yes, these are not simple projects. But average homeowners can still construct them with only hand tools and minimal assistance.
Vertical Sheds
Vertical sheds are smaller than storage sheds and they come in various configurations. Usually, they are around 4×4 and over seven feet tall. You can also choose from a number of styles, sizes, and colors. Also, you can easily set up secure storage for garden tools ranging from 20 square feet to 100 square feet. This type is a hybrid vertical shed.
Horizontal Sheds
They are resin storage structures that range in size from double garbage can protection to smaller ones. They are designed for specific uses. Usually, they are about four feet tall with double opening doors the full width. There are some that have reinforced flooring while others have built-in shelf support. They are all waterproof and weatherproof.
Deck Boxes
Another outdoor option available outdoor storage are deck boxes. They are attractive resin boxes that can be placed on your deck or patio and can protect all those things that need to be or near the outdoor play area. There are some that are designed to function as benches. You also have the option to go for the double wide front opening or allow the top open as well.
Now that you know the types, there are some things that you should consider for you to be able to purchase the best one.
Don't let the cost be the determining factor for you. It is a common fact that most shoppers are drawn to the cheapest price and they usually set aside the features and the quality of that they plan to buy. When it comes to outdoor storage, you must always choose quality before price.
The design of the shed and the design of your house must blend well. This can affect your property's appearance, so go for a design, a color, and a style that will complement your house.
Integrate your storage into the surrounding landscape. You can place plants as they can help to blend into the landscape.
Compare siding materials. Natural wood is considered to be the most attractive siding for storage units, but wood, when exposed over time to water usually rots. However, there are some woods that contain natural resins that make them relatively rot-resistant. Cedar is one and a very popular siding choice for storage units as well. However, it is not maintenance-free. Coat cedar with a UV-inhibiting sealer/preservative energy every other year to protect it.
Be mindful of building codes and other permits that you need before putting up one.
Site preparation for storage units: Lay down cinder blocks, concrete piers, a concrete slab or at least crushed stone before you install your outdoor storage. You have to make it so that it can support the underlying floor area.
DIY or professional installation? If you can do it by yourself, go ahead. However, for those who are not too handy, you can always hire a building professional that can help you build your unit.
The size you plan to purchase must be able to accommodate your needs. Also, make sure that the entry is wide enough to accommodate the largest piece of equipment and still leave some room.
Get yourself some accessories. They can make such a difference!
If you need another one, buy a cheaper one especially if you are on a tight budget.
Hopefully, you will be able to find the best outdoor storage with the wonderful information that you acquired in this article. Good luck!