Rubbermaid outdoor storage is known to be one of the best brands out there for an outdoor storage. The brand offers a variety of rugged and well-designed products to help you with your outdoor storage and organization. Whether you need it for your grill tools or patio furniture, car parts or bicycles, they have a specific model that can accommodate your needs. Their perfectly sized and easy storage solution makes them one of the best brands out there. Aside from this, they are easy to assemble that can last for a long time.
To help you find the best Rubbermaid outdoor storage, here is a list of their models or outdoor storage types: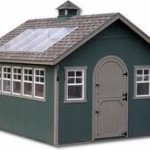 Small Outdoor Storage – this can open wide so that you can easily access your stored goods. Also, this is very stable and functions reliably as spare seating with Rubbermaid's double-walled construction. Some of the patio benches come formed with armrests and back support for a more patio furniture look to conceal your storage. This outdoor storage can easily be left out, no matter what the weather is. It comes in neutral colors.
Medium to Large Outdoor Storage – the vertical Roughneck and BigMax sheds from Rubbermaid offer a range of sizes that are perfect for storing everything for your yard and outdoor activities. These vertical sheds range from 17 upright cubic feet to 325 cubic feet and they are constructed of the same durable all-weather resin which won't rust of mold like wood sheds.
Horizontal sheds – these are onnovatove because they are useful as low-profile storage for those living under strict homeowner's association guidelines. They are easy to use as it can open up widely. They range from 18 cubic feet to 32 cubic feet. The floors can support up to 1300 pounds and the lid slides back for hassle-free walk-in access.
If you're looking for something that can fit your bicycles and lawn equipment, go for the largest side of Rubbermaid outdoor storage. It comes in many sizes and they are all made with reliable and durable materials. Also, their products are lockable which is a great thing! You can purchase Rubbermaid outdoor storage at many hardware retail, outdoor and home-care stores.
To see the actual photos of the Rubbermaid outdoor storage, there are a lot online. Do your research, you will definitely be able to acquire the best outdoor storage for your home!